The team: 
Angelica Casamia, Iona Geddes, 
Paola Guerra,
 Amanda Hahnsson, 
Chiara Lenna, Federico Nunziata, 
Milosh Sokolikj 
The project brief was to take a holistic approach to health, and find new ways of improving peoples health and well-being that didn't rely on expensive medication or treatment if it wasn't necessary. Our team chose to focus on a topic that often goes unacknowledged: the experience of going through menopause. Designing for menopause is fundemental because it is a whole phase of life that around half the population will go through in their lifetime, and yet it is still poorly understood. 
I led the User Research phase of the process where I focused on collecting personal accounts of menopause, and illustrated them in a memorable way, to ensure the project remained human-centered. The user research spanned 5 countries, gathering women's menopause experiences from Columbia, Macedonia, Finland, Italy and the UK. We conducted 7 interviews and an online qualitative survey with 19 participants. The interviews helped us to understand the huge variety of ways that women deal with, and experience menopause, ranging from different symptoms to different cultural mindsets. The anonymous survey allowed women to share some of the more private details of the experience which they might have felt uncomfortable sharing in conversation. 

Opportunities for Design...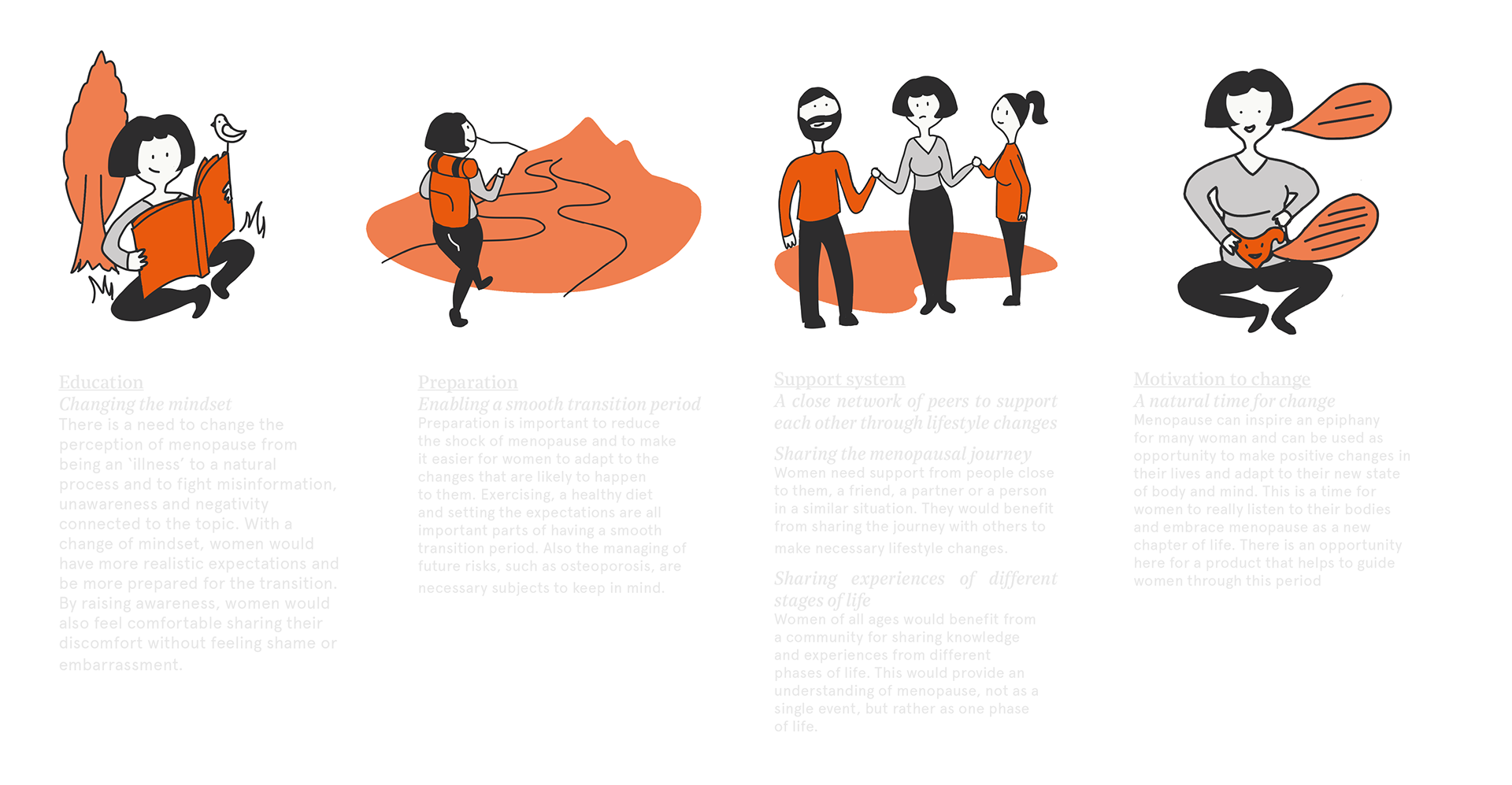 Kiwear is a smart device and that helps women improve their sleep quality and cope with stress and hot flushes. The device guides women though breathing exercises via gentle haptic feedback helping her listen to her body and cope with stress and insomnia in a mindful and relaxing way. 
Yoga and meditation might work for some women coping with menopause, but for women who need a little extra help, Kiwear can provide just that. Kiwear provides one more option to women struggling with menopause who have tried everything, short of hormone replacement therapy.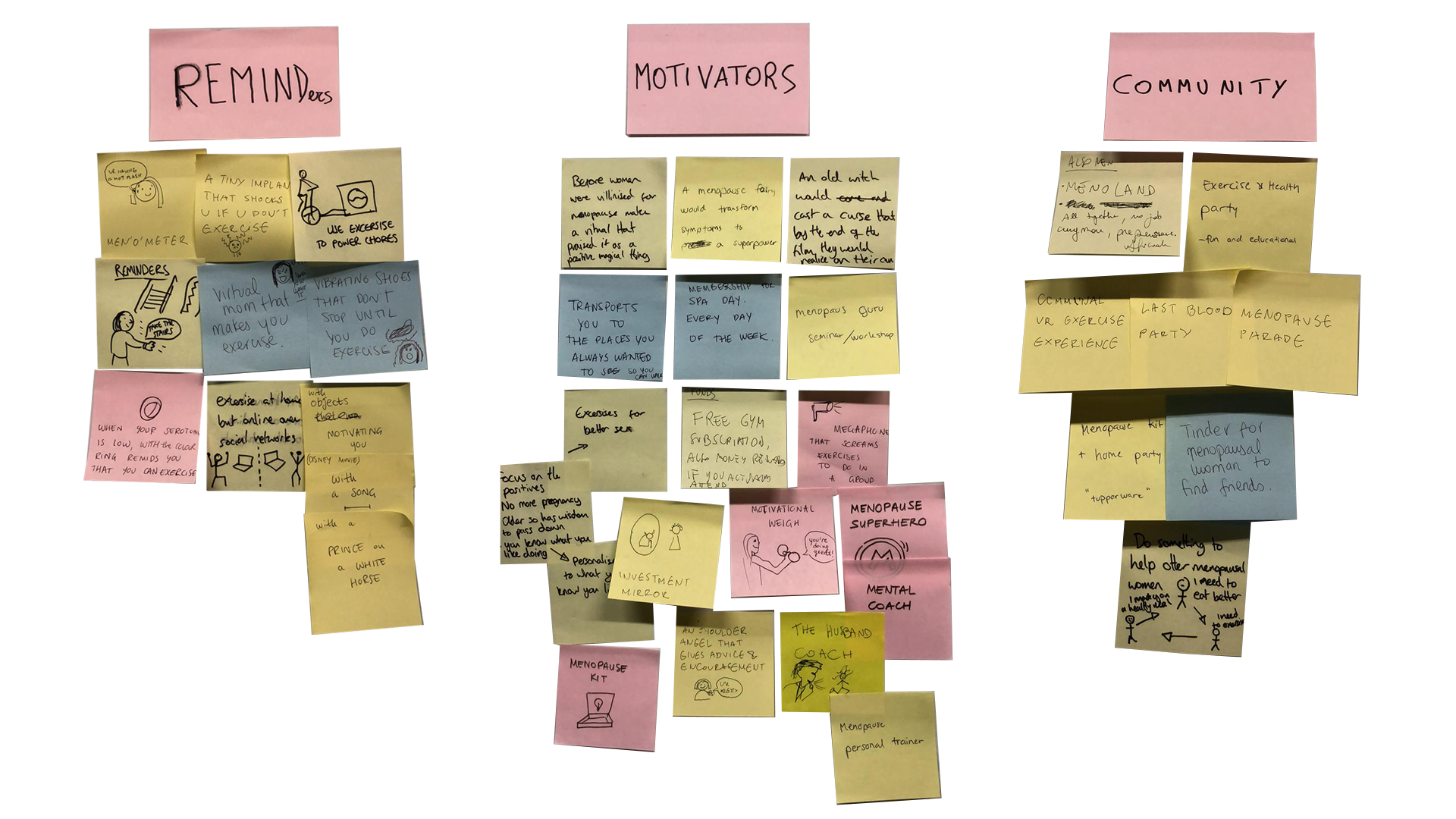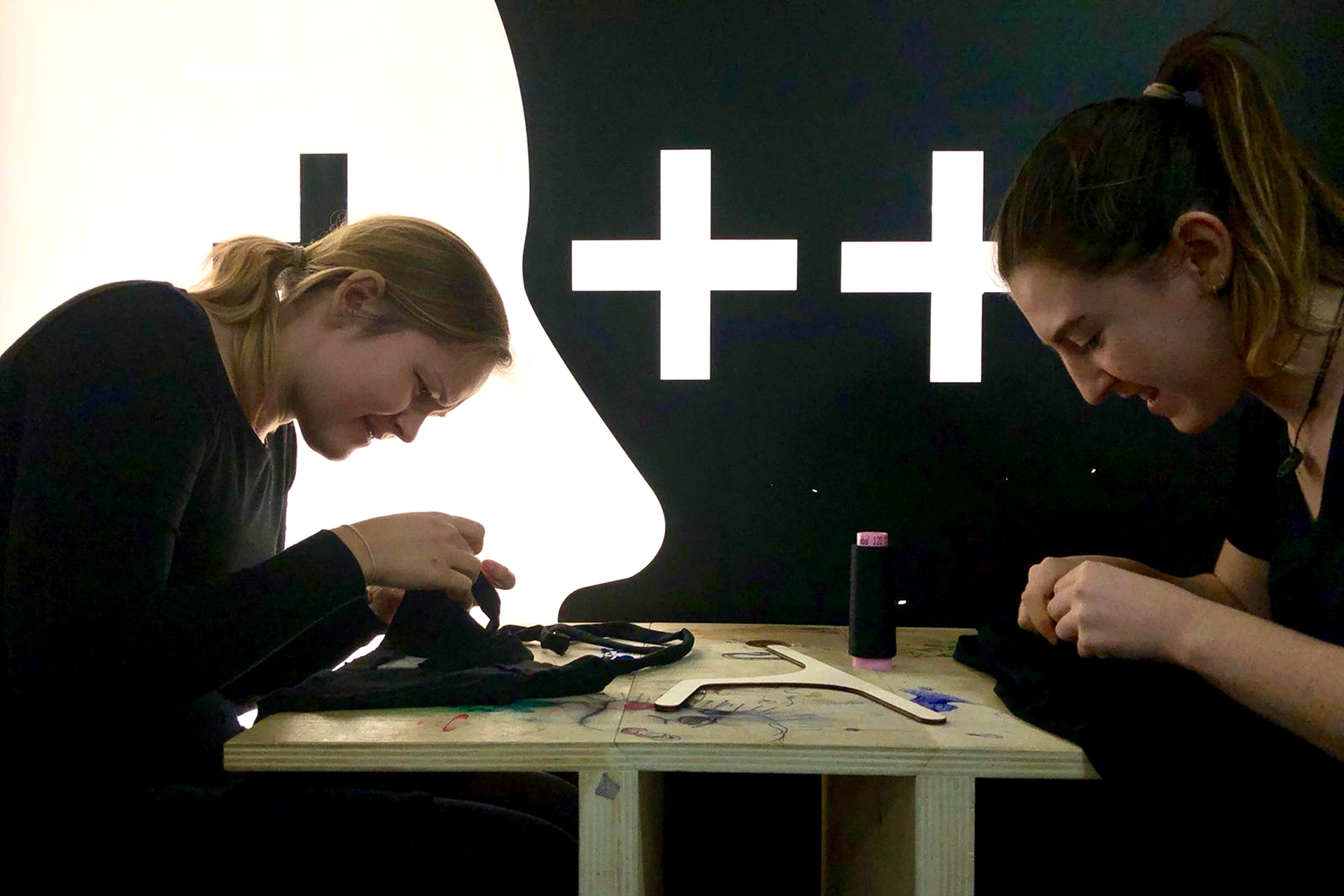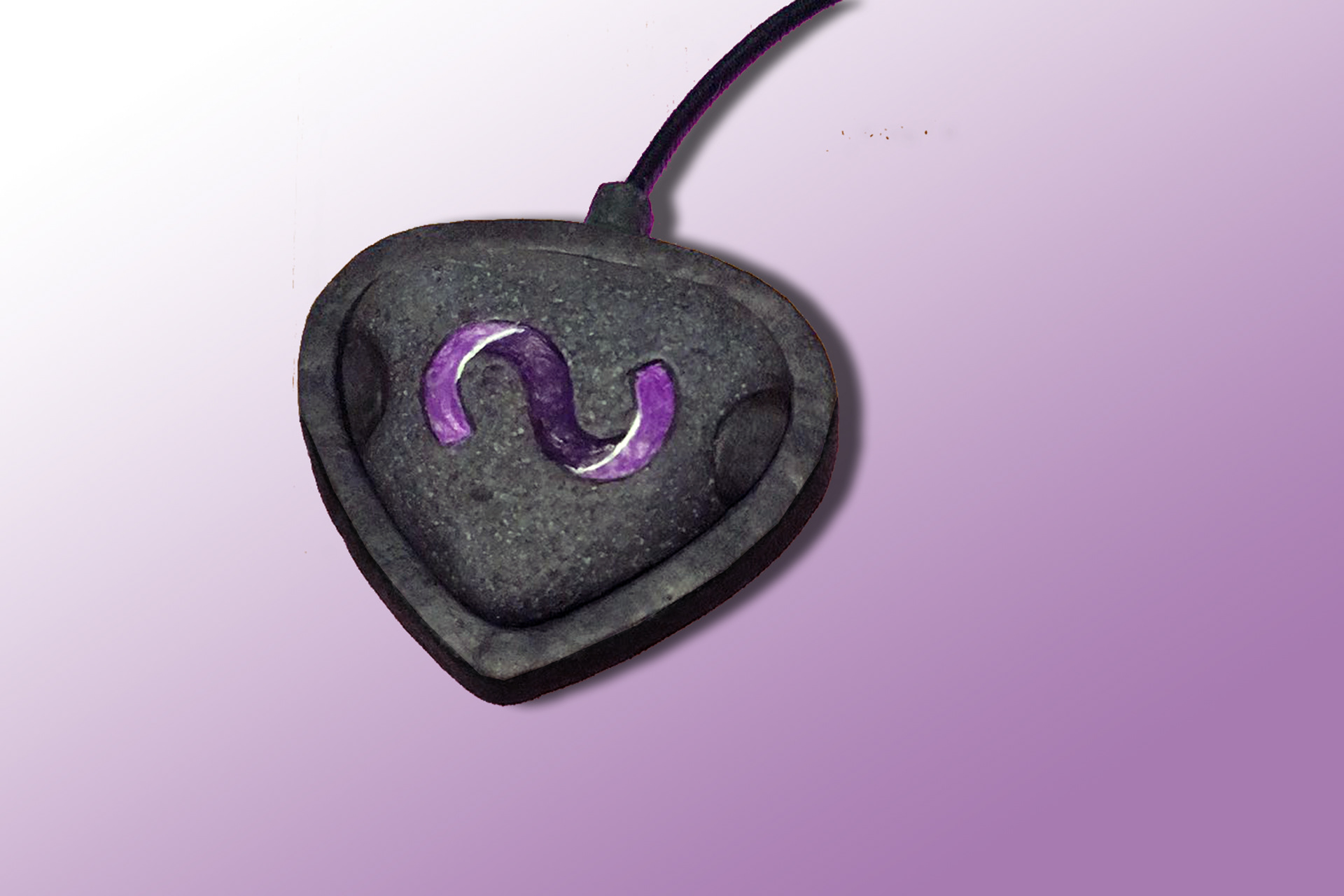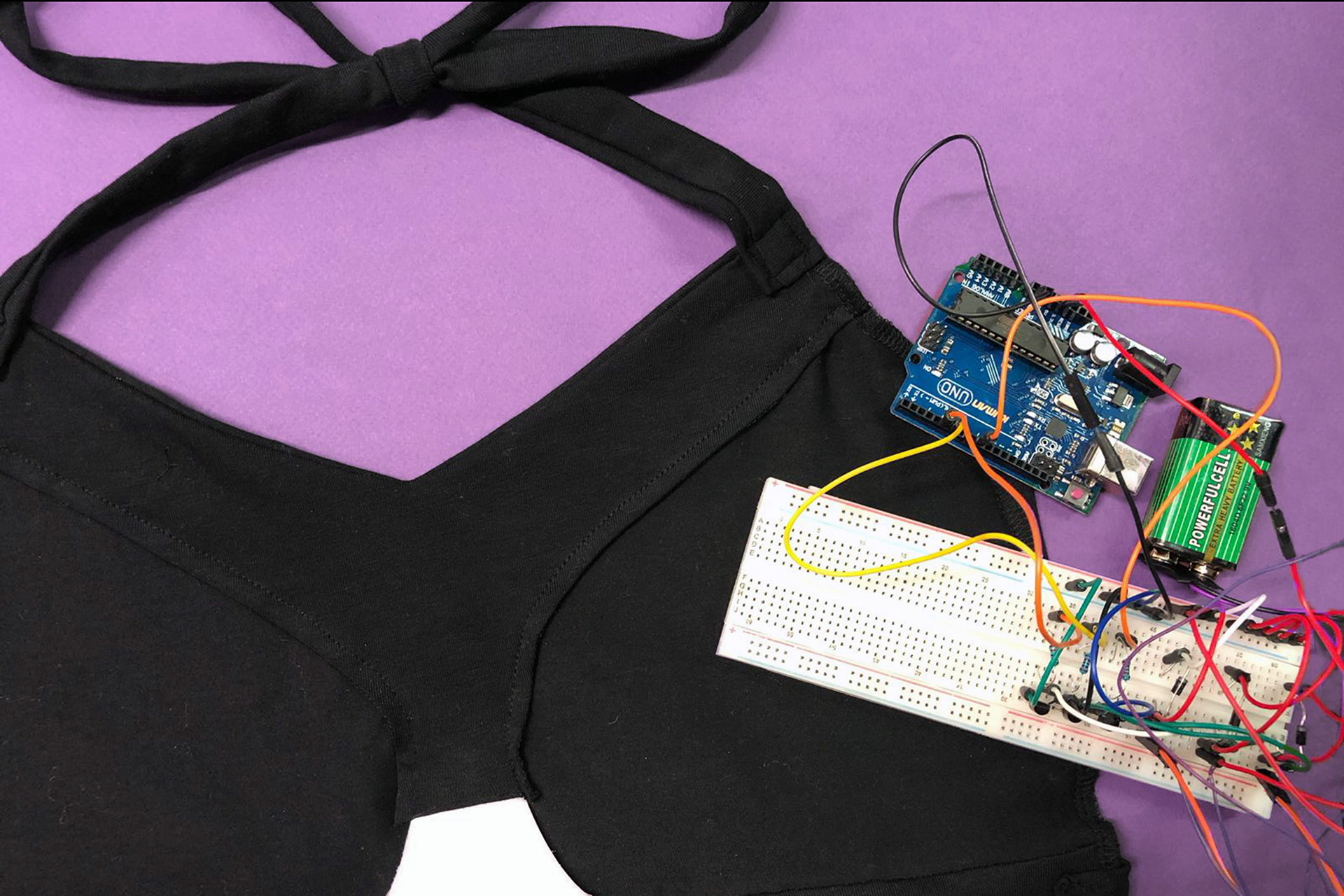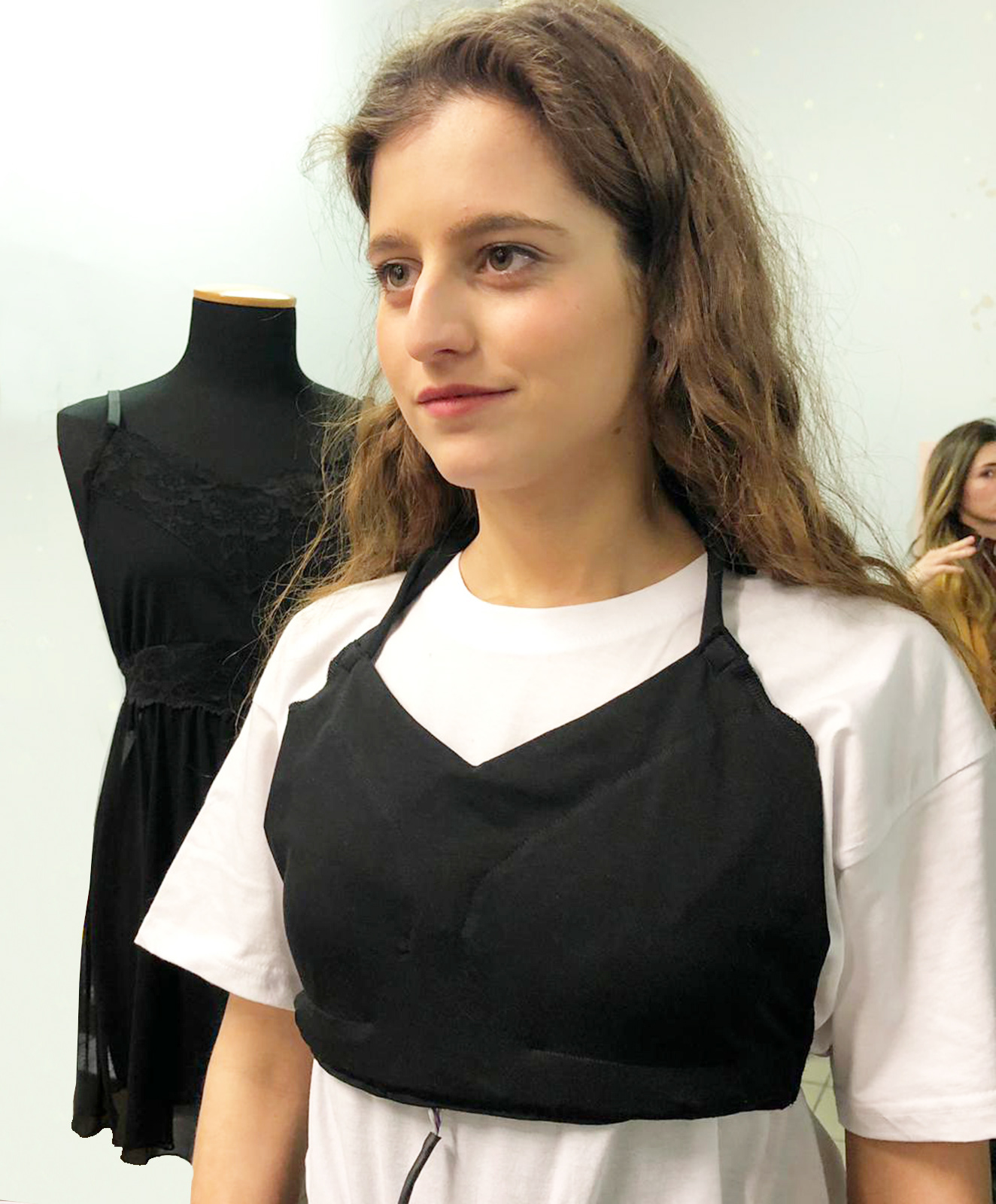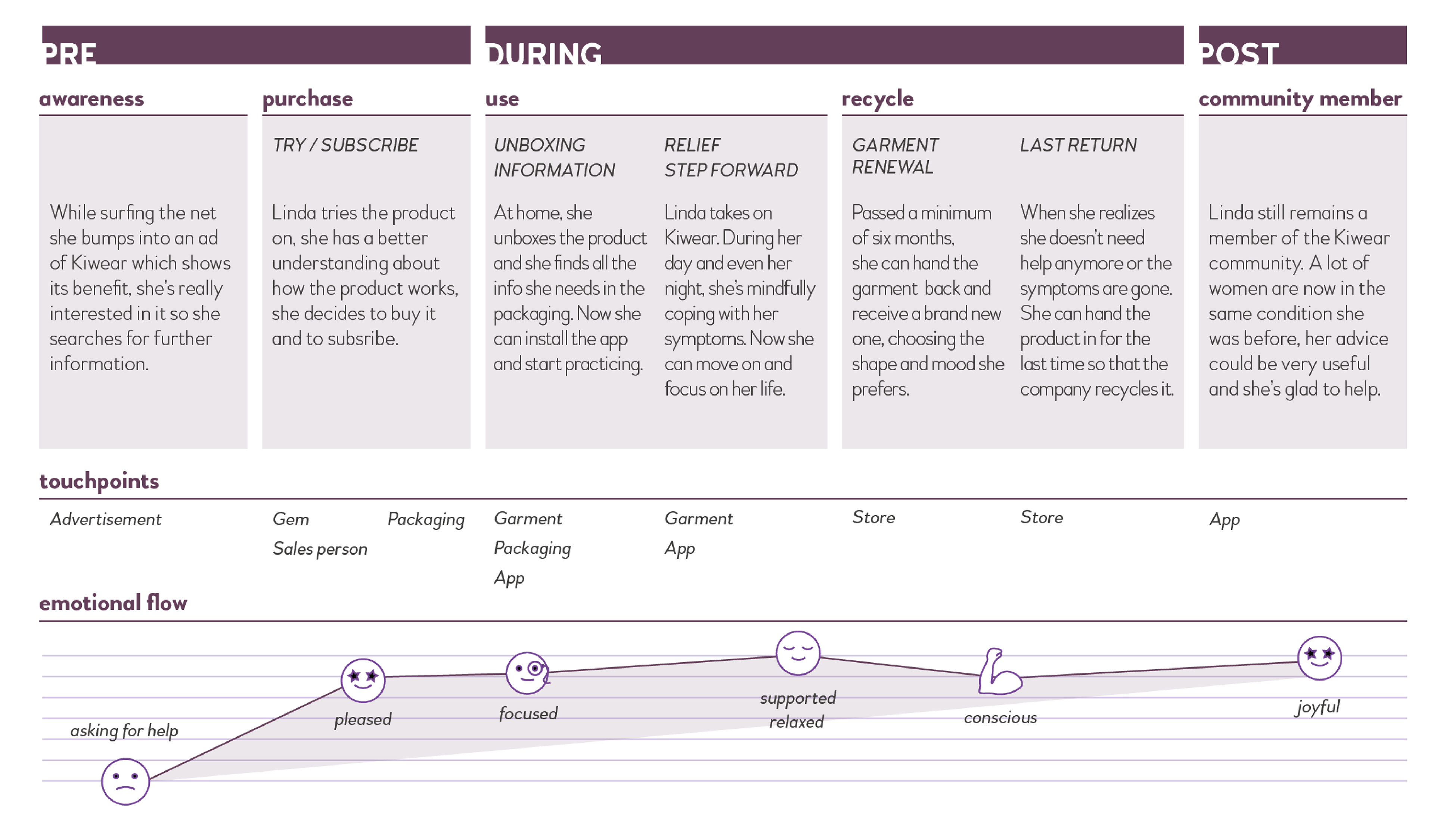 The project was exhibited at at BASE Milano, a project for cross-pollination between the arts, enterprises, technology and social innovation.
As I learnt more about the incredible potential of wearable technology I was disappointed to find that most of it is produced by combining copper wire with various fabrics, making it very difficult to recycle and contributing to the toxic recycling process used at e-waste dumps. This problem is amplified by the fact that clothes are damaged or replaced frequently.
I am particularly interested in the circular economy and Cradle-to-Cradle design, which takes a bio-mimetic approach to product life-cycles. In short, the Cradle-to-Cradle approach keeps technical materials like metals in a separate life-cycle from natural materials, which capitalises on the qualities of both. Technical materials can be reused indefinitely if they remain pure, and natural materials have the ability to return to the earth if they are un-polluted by the technical cycle. I investigated how our product could have a circular life-cycle and well as the benefits of wearable technology. In doing this I worked on designing a way to integrate electronics and fabric that would be comfortable to wear and disassembled easily. 
The inside out garment in the video below shows how the silicone electronics housing can easily be removed during disassembly. The user would never need to remove this component themselves unless they wished to purchase a replacement. The 'gem' which houses the battery and smart components is also seen being removed and inserted, which the user would do for washing the garment and charging the battery.